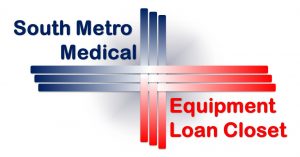 To contact the South Metro Medical Equipment Loan Closet to make a pick-up appointment, make a donation or volunteer please call: 720-443-2013
Medical Equipment is Always Needed!
The South Metro Medical Equipment Loan Closet is official as a 501c3 non-profit organization. We are now accepting donations of durable medical equipment including walkers, wheelchairs, crutches, canes, toilet risers, shower chairs, oxygen generators, scooters, walking boots, etc.
Our mission is to receive and distribute durable medical equipment to those 18 and over free of charge in the south metro area who are in need on a short term loan basis.
If you have durable medical equipment to donate, please call 720-443-2013 to make an appointment. You will receive a tax deductible receipt from the 501c3 non-profit organization. We especially need toilet risers, bedside commodes, scooters, wheelchairs, shower chairs, blood pressure cuffs, etc. Cash donations can be made via check to South Metro Medical Equipment Loan Closet and mailed to 2983 W. Long Dr. Unit C, Littleton, CO 80120 or on line at www.medicalequipmentloan.org
Volunteers are Always Needed!
Volunteers are needed to take phone calls once or twice a month and meet donors or clients to distribute equipment. You answer the phone in your home, or on your cell, and make appointments to accept or hand out equipment. Very little lifting is required and training is offered. Call Donna Ralston at 720-443-2013 for more details.