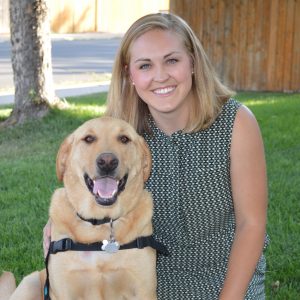 Hi Hope United Methodist Church!
My name is Jessica Burchinal and I am a Licensed Professional Counselor.  I am new to Hope as a private practice clinician through Centus Counseling and am honored to be here.  I utilize several different modalities while working with clients and find that a genuine counseling relationship is key to the therapeutic process.  I hold a Master's Degree in Counseling, am a Nationally Certified Counselor, and am a Certified Animal Assisted Therapist.  My dog is a Certified Therapy dog, and I anticipate that he will be in the Hope office with me most of the time.  His name is Buckley and he is 105 pounds of pure love.
I am accepting new clients, and have a flexible schedule including late afternoons, evenings, and even some weekend spots available.  My self-pay fees range from $90 for individual therapy sessions to $130 for couple/family therapy.  I am not accepting insurance at this time.
For more information about me, click here.  Please call or email me for more information and/or to setup your first appointment.  Thank you for having me!
Jessica Burchinal, MA, NCC, LPC
(303)653-3765  [email protected]